List of recipes using "Asparagus":
7 recipes

A very refreshing starter, containing prawns and smoked fish.
76,403
5/5 for 1 ratings 54 min.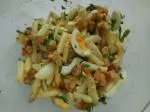 This spring salad combines warm white asparagus, hard-boiled eggs and small croutons, dressed with a tasty herb vinaigrette.
12,359
4.3/5 for 12 ratings 48 min.

In this recipe scallops are fried quickly, then cooked aaparagus tips are added with a sprinkling of parmesan to serve.
64,842
4.1/5 for 16 ratings 38 min.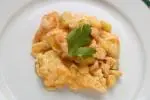 For this dish, the langoustines and asparagus tips are sautéed bafore being mixed with the beaten eggs and finished like scrambled eggs.
1,559 50 min.

Small spears of green asparagus steamed and sliced, served with grated Parmesan in the middle of an omelette.
23,858
3.8/5 for 17 ratings 33 min.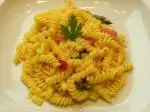 In this recipe, the pasta is cooked separately, then mixed with chunks of green asparagus, ribbons of smoked ham and a cream sauce with nutmeg.
22,298
3.9/5 for 11 ratings 1 hour 8 min.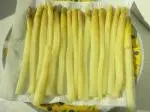 Preparing asparagus spears properly involves washing and peeling, then cooking them just right. Here is a simple way to do this.
10,963
4.9/5 for 19 ratings 33 min.