List of recipes using "Carbonara":
3 recipes

A very famous Italian pasta recipe: egg yolks, cream, bacon, Parmesan and lemon juice.
82,357 2
4.8/5 for 11 ratings 24 min.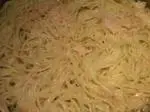 After cooking the spaghetti as usual, strips of smoked salmon are added with cream, lemon, Parmesan and egg yolks.
62,835
3.8/5 for 12 ratings 37 min.

Classic pasta: tagliatelle mixed with courgette "spaghetti", and like for carbonara, with a sauce of egg yolks, cream, lemon juice and fried ham.
79,560
4.6/5 for 14 ratings 53 min.