List of recipes using "Chili":
6 recipes
List of recipes using "Chili"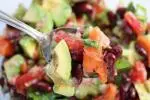 This Mexican-inspired salad combines red kidney beans with avocado, chopped onions and tomatoes. It is dressed with olive oil, lime and a touch of Tabasco heat.
38K
5
28 min. October 9
th
2019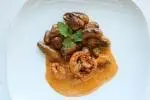 The langoustines in this recipe are cooked in two stages: boiled briefly in salted water, then sautéed before being spiced and flambéed in cognac. They are served here with a creamy sauce and potato grenaille.
26K
5
1 hour 9 min. October 12
th
2016

This is a really express recipe, a "true" chilli is longer and more difficult to do.
359K
3.8
33 min. February 21
th
2011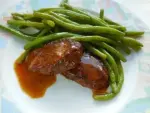 For this recipe with a Mexican flavour (New Mexican, actually), I have used tender medallions of pork fillet mignon. These are first marinated in a spicy oil then pan-fried with the remaining marinade. Serve with green beans and sauce made with a reduced vegetable stock in the frying pan.
40K
5
44 min. November 6
th
2016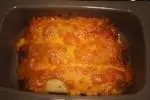 Enchiladas are tortillas (cornmeal pancakes), filled with a pre-cooked filling, then topped with grated cheese and browned in the oven.
23K
1 hour 41 min. May 8
th
2019

This is a quick tomato sauce, just the thing for dipping crisps (chips, if you are American), or nachos. It is very similar to the sauce served with aperitif snacks in Tex-Mex restaurants.
92K
4.1
42 min. September 20
th
2012