List of recipes using "Chops":
2 recipes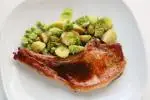 In this recipe, the pork chops are pan-fried and served with a sauce of the reduced pan juices and white-wine, and two different brassicas: Brussels sprouts and romanesco.
5,721
4.3/5 for 12 ratings 46 min.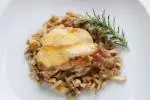 This recipe is cooked in two stages: the chops are flash-fried in a pan, then finished more slowly in the oven. Towards the end of cooking, you can top the meat with slices of cheese, if you like.
5,819
4.6/5 for 14 ratings 26 min.