List of recipes using "Cocotte":
5 recipes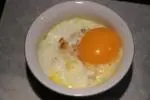 A classic recipe for baked eggs (œufs cocotte), cooked in ramekins with a base layer of spinach and diced chicken.
125
4/5 for 1 ratings 27 min.

A light delicious and quickly prepared dish, an easy and elegant answer to the frequent question "what are we going to eat this evening?". Here is version with Comté (a famous cheese from eastern France, like gruyère, but much better), but it can be made prepared many different ways.
109,154
4.3/5 for 20 ratings 1 hour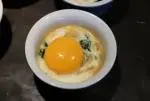 A buttered ramekin, a layer of mushrooms, a layer of spinach, a little cream and an egg added on top in two stages.
27,875
5/5 for 13 ratings 1 hour 30 min.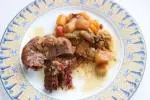 In this recipe a good joint of beef is slow-cooked, surrounded by an assortment of vegetables in small chunks. To concentrate the flavours, the cooking time should be long at a moderate temperature and, most important of all, the dish should be sealed. By the end of cooking, the vegetables will be...
4,708
4.1/5 for 16 ratings 5 hours 28 min.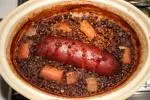 This is a casserole-style version of the traditional French sausage-and-lentils recipe with a special feature: the lentils are cooked in just the right amount of water. The other ingredients add flavour as does, most importantly, the sausage (preferably smoked). When pricked, this will release its...
4,481
4.6/5 for 14 ratings 1 hour 5 min.