List of recipes using "Confectioner":
5 recipes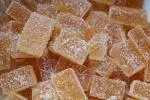 Apple paste, like most other fruit pastes, is a simple mixture of apple juice, sugar and a gelling agent - pectin here.
640 10 days 48 min.

Calissons are a sweet from Provence - Aix-en-Provence is famous for them - made with almonds and candied fruit, covered with royal icing. This is a slightly simplified version, which is every bit as good.
39,793 5
3.3/5 for 3 ratings 1 hour 28 min.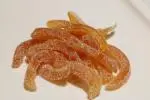 Not really a dessert, more a kind of sweet. After soakiing, strips of grapefruit skin are cooked very slowly to conservethem in sugar. It's a real treat with coffee at the end of a meal.
79,288 1
4/5 for 2 ratings 1 day 1 hour 21 min.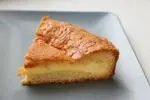 This traditional Basque dessert is similar to a gâteau breton (brittany butter cake), but very moist as it is filled with a rum-flavoured confectioner's custard (crème pâtissière, or french pastry cream). This is a fairly simple recipe, though as the dough is fragile and difficult to handle, I...
7,127
4.6/5 for 14 ratings 2 hours 51 min.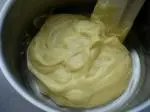 Quite similar to crème anglaise but much thicker. It is used in many pastries like choux pastry (pâte à choux) or millefeuille.
276,006 30
3.8/5 for 37 ratings 36 min.