List of recipes using "Flambéed":
5 recipes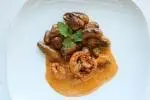 The langoustines in this recipe are cooked in two stages: boiled briefly in salted water, then sautéed before being spiced and flambéed in cognac. They are served here with a creamy sauce and potato grenaille.
27K
5
1 hour 9 min. October 12
th
2016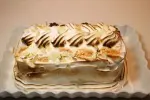 The name may be odd, but Baked Alaska is an elegant dessert. The core of this version is a "sandwich" of vanilla ice cream and blackcurrant sorbet between 2 layers of sponge soaked in rum-flavoured syrup. This is then covered in a layer of meringue and put in a very hot oven for just a few minutes...
27K
4.3
6 hours 47 min. November 12
th
2017

The trick of this recipe is to end up with bananas caramelised on the outside, still firm on the inside, coated with a tasty syrup which is not 95% butter.
285K
1
4
40 min. February 21
th
2011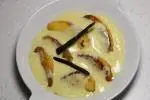 Apples sautéed in butter and sugar, then flambéed in Calvados (from Normandy) and served with real custard.
30K
1
38 min. December 30
th
2019

It's a rather long recipe but which never fails to impress, perfect for a special dinner party. It's made up of 3 circles: one almond "tuile", 2 of caramelized brik sheets, with a caramelized apple layer between each, whipped cream on top, and custard all around. Everything, except whipped cream,...
298K
5
3 hours 9 min. May 28
th
2012