List of recipes using "Ian fleming":
1 recipes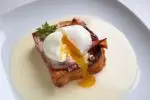 Eggs Arsène is a rather more rustic version (and definitely more Comtoise in style) of eggs Benedict , that indispensible breakfast dish in Ian Fleming's novels. And you're right, there is a nod to James Bond here.
3,657
5/5 for 1 ratings 1 hour 2 min.