List of recipes using "Leaves":
5 recipes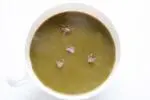 It's all too easy to just throw away the leaves or other green parts of our usual fresh vegetables. This is a real shame, because most of them can be cooked, as in this very green soup that uses up radish tops, spring onion greens and pea pods. I'm sure you'll get how it's "green" in every sense:...
1,126 53 min.

The whole turnip goes into this recipe, in which ramekins are filled with both the root vegetable and its leaves.
94,110
4.4/5 for 9 ratings 57 min.

For this dish only the green part of the chard is used. The blanched leaves are rolled around grilled salmon portions. The rolls are served coated with a savoury lemon sabayon, or the sauce of your choice.
51,110
3.8/5 for 12 ratings 1 hour 21 min.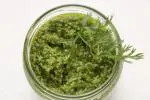 You will no doubt be familiar with classic pesto. Here is an alternative, zero-waste version using carrot tops for a surprising pesto, full of fresh flavour.
696 16 min.

Puff pastry is an incredible assembly of thin layers of butter enclosed in thin layers of dough. After cooking this give a succession of thin crisp pastry leaves that produce exceptional desserts or pies. It's a jewel of French patisserie. Making your own puff pastry is not very difficult, it's just...
109,407 6
4/5 for 3 ratings 2 hours 45 min.