List of recipes using "Leftover":
3 recipes
List of recipes using "Leftover"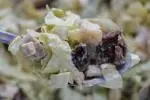 This salad takes its inspiration from the famous Caesar salad, but is simpler. The combination of chicken with croutons is a delicious way to use up leftovers.
6,523
32 min. February 10
th
2021

Fresh white haricot beans and leftover chicken cooked with stewed tomatoes, a sprig of parsley and it's ready.
176K
4.1
1 hour 55 min. February 21
th
2011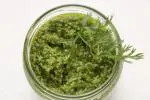 You will no doubt be familiar with classic pesto. Here is an alternative, zero-waste version using carrot tops for a surprising pesto, full of fresh flavour.
13K
16 min. September 16
th
2020