List of recipes using "Long":
2 recipes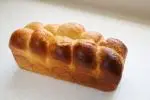 This is the classic, but delicious, brioche recipe that you can find in any good baker's. Her unique shape is made from small balls of dough put in a mould.
242K
3.8
2 hours 26 min. September 10
th
2018

Little crusty bread sticks of Italian origin, these are delicious for aperitifs, plain or with dips like tuna rillettes, guacamole or houmous.
235K
4.2
2 hours 30 min. February 21
th
2011