List of recipes using "Mashed potatoes":
2 recipes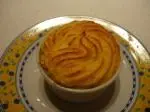 Duchess potatoes are a mix of mashed potato and egg yolks, cooked in the oven, in a decorative shape and delicious. In this recipe they top a ramekin containing a layer of mashed potato, cooked leek, and thinly sliced bacon.
86,365 2
4.6/5 for 14 ratings 2 hours 5 min.

Rather like the classic hachis Parmentier, but using oxtail stewed very slowly in red wine and herbs.
109,004
4.7/5 for 12 ratings 5 hours 46 min.