List of recipes using "Milk":
8 recipes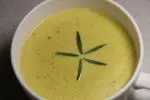 This soup has a naturally smooth and creamy texture. The blend of autumnal potimarron (Japanese chestnut pumpkin) and celeriac flavours is warmed with French mustard.
3,634
4.6/5 for 14 ratings 51 min.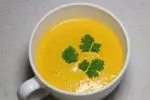 This autumnal soup combines the flavours of Japanese chestnut pumpkin (potimarron) and leeks - they go so well together. The resulting soup is velvety smooth and delicious.
4,444 1
3.9/5 for 19 ratings 1 hour 7 min.

Blancmange is a very old dessert recipe, going back to the middle-ages. Updated for our century, it's almond milk with whipped cream and a smooth apricot puree.
103,422
4.4/5 for 8 ratings 3 hours 14 min.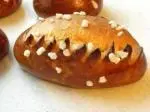 This sweet milk bread, made as baps or rolls, with its sugar topping is delicious for breakfast or with afternoon tea.
38,251 1
3.8/5 for 17 ratings 5 hours 31 min.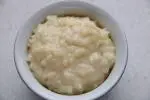 My personal version of this classic family recipe.
95,056
5/5 for 1 ratings 38 min.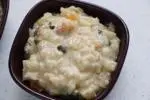 This is cooked like a normal rice pudding, but with fruit and nuts added halfway through: toasted almonds and pistachios, sautéed diced apple and strips of dried apricot. These added flavours and textures make an already creamy rice pudding even more delicious.
4,435
4.6/5 for 14 ratings 1 hour 5 min.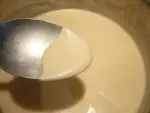 Bechamel sauce is a classic, made from a cooked butter-flour mix called "roux", where milk is added and slowly cooked. We get a thick sauce, used in many recipes.
93,889
4.3/5 for 3 ratings 18 min.

Very often when you heat milk in a saucepan, it forms at the bottom of the pan (especially if the milk boiled) a sticky and brown bottom of milk that burned and attached. To avoid this here is a very simple and very effective tip.
28,858
5/5 for 4 ratings 1 min.