List of recipes using "Parmentier":
8 recipes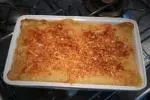 You may well have come across hachis parmentier, the French version of shepherd's pie. Here's a variation using puréed haricot beans, inspired by another classic French dish: cassoulet.
1,649 54 min.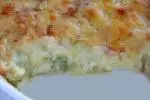 This is a novel twist on the well known cottage or shepherd's pie idea (minced meat topped with mashed potato). Why not try this "Brussels" pie with a mixture of mashed potato and Brussels sprouts on top of chopped chicken?
1,920 1 hour 24 min.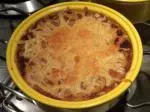 This recipe is very simple to make as everything can be prepared in advance. A layer of duck meat is sandwiched between two layers of potato purée. This is topped with grated cheese before being put in the oven.
25,089
3.9/5 for 12 ratings 51 min.

This is the French answer (meat with mashed potato and cheese) to the English cottage or shepherd's pie: a typical family recipe which is an excellent way of using up leftover meat. The proportions are vague here: you need "whatever you have left over"...
109,228 2
4.4/5 for 18 ratings 1 hour 22 min.

Rather like the classic hachis Parmentier, but using oxtail stewed very slowly in red wine and herbs.
109,729
4.7/5 for 12 ratings 5 hours 46 min.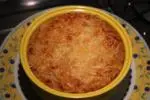 "Parmentier", in French cuisine, means topped or mixed with mashed potato. This fishy version is made with pollack (or another fish, if you prefer), poached, flaked, and mixed with cooked onions, mashed potatoes and a little thyme. This is then topped with grated cheese and browned in the oven,...
5,289
4.8/5 for 12 ratings 56 min.

We could almost say a "Parmentier" of potimarron: a layer of left over cooked chicken, covered with potimarron purée and cheese, put to brown in the oven.
77,423 2
4/5 for 2 ratings 1 hour 35 min.

Parmentier is a French version of shepherd's pie. This variation has slow-cooked meat on top of the mashed potato (purée), instead of underneath. A red-wine sauce adds the finishing touch.
31,869
4.2/5 for 12 ratings 6 hours 7 min.