List of recipes using "Pizza":
7 recipes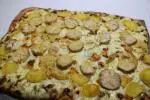 A baker's tart is made with bread dough. It is sometimes called a baker's pizza, but this version has no tomatoes. It is topped with potatoes and slices of herb-poached chicken on a bed of cream and cheese with more herbs.
1,259 1 hour 23 min.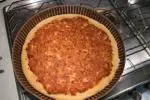 A baker's tart, sometimes called a baker's pizza, is a tart with a base made of bread dough. This version, without tomatoes, combines tuna with mushrooms.
1,222 1 hour 2 min.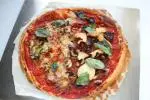 This pizza with a difference has a thin puff-pastry base instead the traditional dough. Apart from this small refinement, the basic elements you would expect are all there: tomato sauce, a variety of toppings and fresh basil leaves.
2,232 36 min.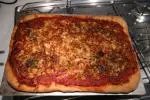 Baker's pizza is very quick to make using a basic bread dough. If you buy the dough ready-made (ask your local baker) and use a good tomato sauce from a jar, you can have it ready for the oven in under 10 minutes.
2,188 38 min.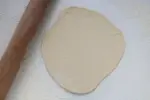 Pizza dough is a lind of bread dough with olive oil, which make it softer. This is the same dough that I use for pizzas and flammenkuches, this is no doubt incorrect, but it's very good nevertheless. At home we used to make pizza dough quite thick, and flammenkuche as thin as possible.
79,734
4.6/5 for 19 ratings 2 hours 10 min.

This is the sauce to put on pizza bases before the toppings.
85,220
4.3/5 for 10 ratings 1 hour 15 min.

This flavoured olive oil, easy to prepare, goes very well with Mediterranean cuisine: pizzas, pastas, pan bagnat, etc...
70,898
3.8/5 for 12 ratings 21 min.