List of recipes using "Rillettes":
5 recipes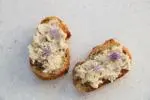 This recipe for mackerel rillettes (or potted mackerel) starts with poaching the fish. The flesh is then taken off the bones and forked into a seasoned mixture of butter, mustard, cream and lemon juice. In France this is traditionally eaten as an aperitif snack, served on small slices of toast.
1,176 1 hour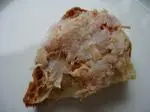 Potted meat (rillettes) is cooked long and slow in fat. Rillettes can be of pork or duck. Here is the pork version.
94,453 2
5/5 for 1 ratings 6 hours 46 min.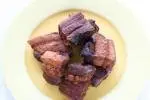 Rillons de Tours (a town in the West of France, in the Loire valley) is a winter pork recipe. Bacon is cooked long and slow in lard and white wine until "confit". Rillons can be eaten like potted meat (rillettes) with bread, wine and pickled gherkins, but they can also be used instead of lardons in...
13,116
4.3/5 for 12 ratings 2 hours 19 min.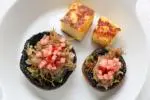 In this recipe, the mushroom caps are first sautéed, then filled with fried onions and a spoonful of rillettes, then baked in the oven. Here they are served with a quick pickle made from brunoise radishes with tarragon.
3,505
3.8/5 for 17 ratings 58 min.

Quick to make, delicious as an aperitif.
52,800
5/5 for 2 ratings 17 min.