List of recipes using "Sea bream":
2 recipes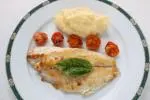 A fillet of blackspot sea bream (though you can use another fish), fried rapidly and served with a creamy cheese polenta and sautéed cherry tomatoes.
7,005
4.3/5 for 15 ratings 23 min.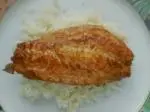 In this recipe, fillets of red sea bream are marinated in a mixture of soy sauce, lime juice and olive oil before being pan fried.
17,931
4.9/5 for 11 ratings 25 min.