List of recipes using "Seal":
1 recipes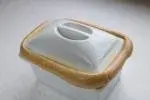 The French have a term for it: "luter", which means to seal around the lid of a cooking dish with dough. The dough forms a crust and hermetically seals in all the steam and flavours while the dish is cooking in the oven. This is a good way to concentrate flavours. The dish is brought to the table...
9,321
3.8/5 for 17 ratings 33 min.