List of recipes using "Simple":
6 recipes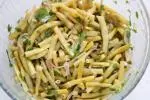 A very simple recipe for a salad of green (or yellow) French beans: The beans are boiled first, then thoroughly drained and served mixed with herbs, chopped shallot and a good vinaigrette (french dressing).
5,687
4.6/5 for 14 ratings 35 min.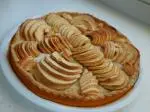 This is without doubt the easiest apple tart you can make: a simple pastry case (a sweetened sort of shortcrust pastry without egg) and apples - that's all! It's the tart my grandmother Jeanne made when I was a boy (a long time ago, as you can probably gather) and my father's favourite dessert.In...
5,627
4/5 for 20 ratings 2 hours 7 min.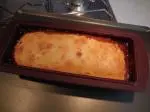 The idea of a "family" cake can mean so many different things, depending on where your family came from. This French version consists of a layer of pears in liquid caramel, topped with a basic cake mixture, similar to the four quarters recipe.
11,245
4/5 for 1 ratings 1 hour 12 min.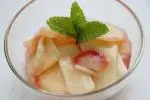 A simple fruit salad of white peaches bathed in mojito flavours: lime, rum and mint (with a delicate hint of vanilla).
436 39 min.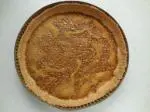 It would be hard to find a simpler tart recipe: just sweetcrust pastry filled with maple syrup, then baked.
9,424
4.2/5 for 18 ratings 46 min.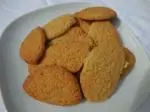 These small, lemon-flavoured biscuits are very easy to make and are inspired by the Italian "biscotti al limone".
11,861
5/5 for 13 ratings 1 hour 42 min.