List of recipes using "Tiles":
3 recipes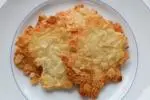 These delicious little biscuits ("tiles" in French) get their crunch and lightness from the use of flaked almonds rather than ground. It is not difficult to succeed, you just need to work fast after taking them out of the oven.
99,609
5/5 for 1 ratings 1 hour 18 min.

A very thin disc of chocolate, topped with toasted nuts and candied grapefruit peel.
83,953
4/5 for 19 ratings 2 hours 22 min.

Delicate tuiles with coconut. Very thin, they are both crunchy and melt-in-the-mouth. Delicious on their own or to accompany an ice-cream or cream dessert, perhaps a sophisticated one like coconut-vanilla cream for Elsa .
107,217
4.8/5 for 4 ratings 1 hour 12 min.