List of recipes using "Cider":
2 recipes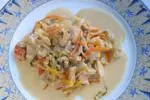 A "marmite normande" is a combination of different seasonal julienne vegetables and a mix of shellfish, rapidly sautéed, then deglazed with cider. The vegetables and shellfish are then simmered together in cream, which intensifies the flavours while it gently reduces and thickens. This recipe is...
3,364 2 hours 13 min.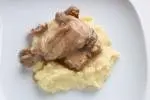 In French cooking, "à la normande" means there are apples involved, as Normandy is famous for them. In this twist on the classic civet, the rabbit meat is cooked on the bone in cider, after marinating overnight. The sauce is made at the end with the cooking juices and cream.
6,687
4.6/5 for 14 ratings 15 hours 3 min.