List of recipes using "Club":
3 recipes
List of recipes using "Club"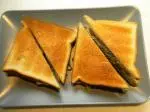 In this club sandwich: chicken marinated in lime, fried bacon, lettuce, red onion and mayonnaise.
102K
4.1
1 hour 42 min. November 19
th
2012

A club sandwich has three slices of bread, filled with a mayonnaise-style dressing. Here is a crab and smoked salmon version with cocktail sauce.
199K
1
5
1 hour 2 min. October 13
th
2010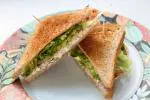 This is a rapid club sandwich recipe that combines the taste of the sea (sardines in oil) with the terrestrial flavour of fried bacon. The two are accompanied by a layer of cream cheese with herbs.
20K
4.3
24 min. September 10
th
2017