List of recipes using "Cod":
2 recipes
List of recipes using "Cod"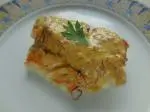 A thick, deboned loin of fish (cod in this case), pan-fried and served with a reduced white-wine and cream sauce, flavoured with shallot and saffron.
74K
4.4
47 min. December 17
th
2014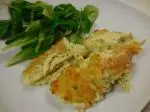 "Brandade de morue" is a classic of French bistro cuisine, especially in the south. It is a puréed mixture of salt cod and olive oil with (or sometimes without) potatoes. Here is a simplified version.
67K
4
1 hour 32 min. March 2
nd
2014