List of recipes using "Comté cheese":
8 recipes
List of recipes using "Comté cheese"

A light delicious and quickly prepared dish, an easy and elegant answer to the frequent question "what are we going to eat this evening?". Here is version with Comté (a famous cheese from eastern France, like gruyère, but much better), but it can be made prepared many different ways.
325K
4.3
1 hour February 21
th
2011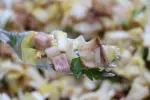 An endive salad given a hearty boost with fried croutons, diced Comté cheese and Morteau sausage.
17K
26 min. March 10
th
2021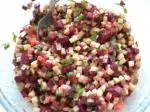 For this fun salad, all the ingredients are cut into small dice, hence the name.
64K
4.3
49 min. August 4
th
2014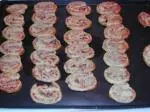 These small aperitif snacks can be prepared in advance and heated at the last minute, or served cold.
330K
5
1 hour 23 min. September 7
th
2018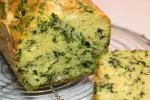 For this savoury cake-style loaf, we use a plain basic mixture and add wilted spinach wth shallots and diced Comté cheese.
77K
4.3
1 hour 13 min. April 17
th
2016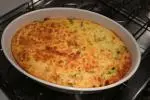 Clafoutis, the traditional French batter puddings, are normally sweet, but here is a savoury version: a layer of mixed vegetables (pre-cooked in this case) in a gratin dish with a cheesy mixture poured over, then baked in the oven. Here I have used diced carrots and courgettes, chopped onion, fried...
48K
4.7
1 hour 31 min. September 28
th
2016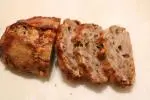 This speciality bread is full of all the character of the Jura: dry white wine (made with Savagnin grapes, of course), diced Comté cheese and toasted walnuts. "Jurassic bread" was is first name... The loaves can be made long, as shown here, or as small rolls. This is ideal as an aperitif snack,...
38K
4.4
6 hours 9 min. October 24
th
2017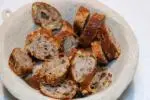 These crusty mini-baguetttes are generously dotted with diced Comté cheese, toasted walnuts and fried bacon bits. They are ideal for slicing and serving as an aperitif snack.
49K
5
3 hours 51 min. October 24
th
2017