List of recipes using "Cream sauce":
3 recipes

A salmon fillet, grilled slowly to keep the inside tender, served with sesame rice and a little corn salad cream. You'll love it...
70,477 1
3.9/5 for 7 ratings 1 hour 14 min.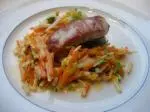 Pork loin is cut into individual portions, which are split and filled with herbs before cooking. They are served with crunchy julienne vegetables and a cream sauce.
93,647
4.2/5 for 19 ratings 2 hours 33 min.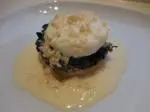 A "cake" of fried polenta, blanched spinach and a soft-poached egg on top, with a cream, shallot and white-wine sauce poured over just before serving.
10,333
5/5 for 1 ratings 1 hour 11 min.