List of recipes using "Crunchy vegetables":
4 recipes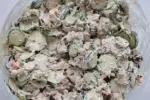 This very simple salad contains a mix of crunchy raw ingredients, balanced by the softer texture of tuna, and dressed with mayonnaise.
1,991 41 min.

Crunchy vegetables, pine nuts and rice with a rémoulade dressing.
40,753 1
4.6/5 for 20 ratings 36 min.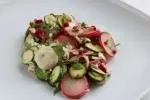 Fresh and crunchy, this colourful spring salad combines baby courgettes, radishes, cauliflower, beetroot and spring onions with chopped herbs in a good vinaigrette.
5,991
4.6/5 for 19 ratings 27 min.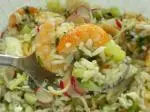 This salad combines contrasting crunchy ingredients (radish, cucumber, gherkins, onions) with the softer textures of cold rice and tomatoes. The oven-roasted prawns are addded hot. The salad is brought together with herbs and a vinaigrette dressing.
22,291
3.9/5 for 12 ratings 1 hour 51 min.