List of recipes using "Crunchy vegetables":
4 recipes
List of recipes using "Crunchy vegetables"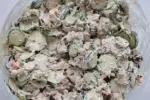 This very simple salad contains a mix of crunchy raw ingredients, balanced by the softer texture of tuna, and dressed with mayonnaise.
22K
41 min. October 21
th
2018

Crunchy vegetables, pine nuts and rice with a rémoulade dressing.
130K
1
4.6
36 min. April 3
rd
2011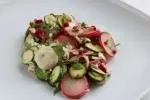 Fresh and crunchy, this colourful spring salad combines baby courgettes, radishes, cauliflower, beetroot and spring onions with chopped herbs in a good vinaigrette.
36K
4.6
27 min. May 22
th
2016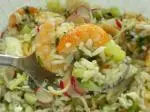 This salad combines contrasting crunchy ingredients (radish, cucumber, gherkins, onions) with the softer textures of cold rice and tomatoes. The oven-roasted prawns are addded hot. The salad is brought together with herbs and a vinaigrette dressing.
82K
3.9
1 hour 51 min. September 15
th
2013