List of recipes using "Elsa":
2 recipes
List of recipes using "Elsa"

A dessert in three layers: a first of smooth vanilla cream, a second of coconut cream (also very smooth), and to finish, a thin crunchy layer of coconut tuiles. In the spirit of crème brulée: break through the crisp surface layer to discover the smooth melting coconut and vanilla creams beneath. A...
188K
3.8
4 hours 58 min. February 21
th
2011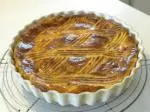 This galette is a classic Comtois dessert that resembles choux pastry (pâte à choux).
71K
4
46 min. January 20
th
2013