List of recipes using "Fines":
2 recipes

It is quite easy to make your own garlic and herb cream cheese, rather like the well-know Boursin. It's fresh, much better, of course, and delicious, especially with a piece of toast.
39,295
3.9/5 for 12 ratings 35 min.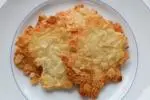 These delicious little biscuits ("tiles" in French) get their crunch and lightness from the use of flaked almonds rather than ground. It is not difficult to succeed, you just need to work fast after taking them out of the oven.
95,732
5/5 for 1 ratings 1 hour 18 min.