List of recipes using "Flakes":
2 recipes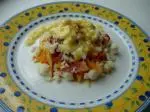 This recipe consists of delicate flakes ("petals") of poached fish, cooked with smoked ham, served on a bed of julienne vegetables (fine sticks of carrots, turnips and cabbage), with a "beurre blanc" sauce made with vinegar and shallots. Not difficult, but entails some work.
72,335
4.3/5 for 10 ratings 1 hour 34 min.

Little biscuits with home-made oat flour (made from rolled oat flakes).
72,828 1
5/5 for 1 ratings 2 hours 41 min.