List of recipes using "Green beans":
3 recipes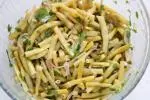 A very simple recipe for a salad of green (or yellow) French beans: The beans are boiled first, then thoroughly drained and served mixed with herbs, chopped shallot and a good vinaigrette (french dressing).
4,123
4.6/5 for 14 ratings 35 min.

Pieces of white fish rolled in thinly sliced smoked ham. These rolls are cooked in a little olive oil and served with French beans. The pairing of smoked ham with fish might seem a little strange, but in fact these flavours marry well.
85,133
4.9/5 for 18 ratings 54 min.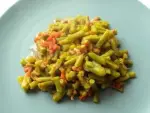 Cut green beans simmered with tomatoes and mixed with onions and lightly fried lardons (or small pieces of bacon).
26,645 1
4.7/5 for 20 ratings 1 hour 38 min.