List of recipes using "Griottines":
2 recipes

A shortcrust pastry case baked with pistachio cream, then topped with Griottine cherries.
154K
2
5
1 hour 20 min. July 4
th
2010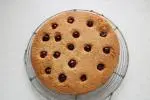 This Galette de Fougerolles is a flattish cake filled with a hazelnut buttercream and topped just before baking with a "craquelin" (sweet cracker) crust, studded with griottine cherries.
17K
3 hours 21 min. February 17
th
2019