List of recipes using "How to":
7 recipes

Blackcurrants make a very good coulis, but it's a bit more difficult than with other fruits. Here is a simple method to help you succeed.
100,601 2
3.5/5 for 2 ratings 25 min.

It is common in cooking or pastry, having beaten whites mix preparation to another without making them completely fall, here are some tips to help you to.
12,835
4.3/5 for 15 ratings 10 min.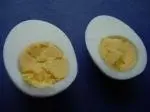 A hard-boiled egg is properly cooked when: shell is not broken, white and yolk are firm, yolk is only yellow with no traces of green around it. Here are some tips to make this easy.
98,089 6
5/5 for 3 ratings 1 hour 28 min.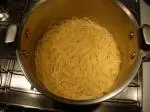 Here is some advice for pasta that's properly cooked and doesn't stick.
61,074
4.4/5 for 14 ratings 22 min.

Passion fruit are rather strange fruit as they do not really have much flesh, but rather seeds surrounded by a fine layer of pulp. Here is a way to extract the juice.
86,126 3
2.3/5 for 4 ratings 20 min.

Here is how to get from an avocado only the flesh of the fruit.
24,484 1
4/5 for 2 ratings 11 min.

Here is how to clean and cut fresh leaves to use in a recipe, by removing stalks and central vein, to retain only the very best of the sorrel.
69,591
3.8/5 for 4 ratings 34 min.