List of recipes using "Jam":
8 recipes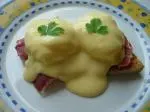 Soft-boiled eggs, served on toast with a slice of fried smoked ham, and the whole covered with Hollandaise sauce.
67,399
4/5 for 12 ratings 1 hour 4 min.

These were originally a traditional German treat (Berliner Pfannkuchen in German): big fried doughnuts filled with jam and sprinkled with icing sugar.
39,277
4.5/5 for 6 ratings 4 hours 23 min.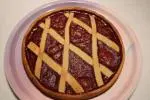 Linzer torte, or tart from Linz (Austria), has a cinnamon-flavoured crust filled with raspberry jam. The special and rather crumbly sweet pastry used for the case is made with cinnamon, ground almonds and the yolks of hard-boiled eggs. There are many different versions. In this rather unusual one,...
5,181
4.7/5 for 11 ratings 1 hour 5 min.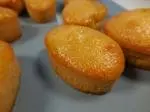 Nonettes are small, jam-filled cakes from a bygone age. They originated in Dijon, where they were made by nuns (hence the name, which means "little nun" in French). The traditional version is closer to the French "pain d'épices", but this recipe has a more of a citrus flavour, made with marmalade.
18,411
4.4/5 for 16 ratings 1 hour 50 min.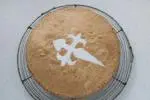 Santiago cake (or Torta de Santiago) has a lovely moist texture. It is made with almonds and lemon and contains no butter or flour. This Spanish speciality from Galicia is still often decorated with the cross of St James.
6,768
5/5 for 1 ratings 52 min.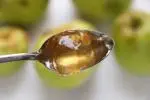 This jelly is an excellent way to make use of all those unripe apples that have dropped off the tree. They (or rather, their juice) makes a delicious jelly with a very delicate flavour. As these apples are green and generally tart, we need to use a little more gelling agent than for a normal jelly...
4,060
5/5 for 1 ratings 58 min.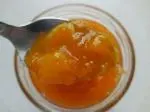 Here is how to make delicious stewed apricots, both an easy and a more sophisticated way.
214,156 12
3.7/5 for 46 ratings 1 hour 25 min.

Quick and simple, stewed plums can also be spread like jam.
61,033
2.6/5 for 7 ratings 38 min.