List of recipes using "Lardons":
7 recipes
List of recipes using "Lardons"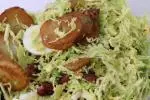 This salad, inspired by French bistro cuisine, combines cabbage with fried potatoes and lardons, and hard-boiled eggs in a vinaigrette dressing.
3,141
38 min. April 6
th
2022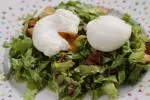 Salad lyonnaise conjures up the cuisine of the French city of Lyon and the region around: traditionally a salad of dandelion leaves with croutons, lardons and poached eggs. Here is a slightly simpler version with shredded lettuce instead of dandelions.
4,858
42 min. December 29
th
2021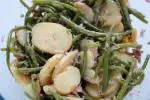 This rustic traditional dish (literally "peasant salad") combines cold sliced potatoes and green beans (cooked separately) with chopped red onion and fried lardons. The salad is finished with a vinaigrette dressing and parsley, or your choice of herbs.
17K
2
17 min. October 21
th
2020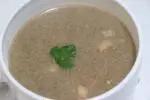 This rustic soup comes from Cornouailles in Brittany – France's very own Cornwall. It is made with fried bacon and onions, and thickened with a little buckwheat flour, typical of the region.
9,053
42 min. May 9
th
2021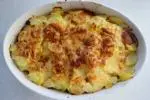 Potatoes cooked "bourguignon" (or Burgundy) style is a delicious twist on a classic potato gratin. The potatoes are cooked in milk, with added flavour from lardons and fried onions. A tasty topping of cream with Époisses cheese is poured over just before the dish goes in the oven.
9,179
1 hour 55 min. August 12
th
2021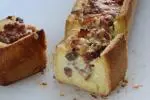 Use quiche filling mixture to transform a dry loaf into a spectacular bread-crust quiche. It can be enjoyed on its own or is ideal as an aperitif snack. The bread crust will crisp up when it is baked a second time, the perfect foil for the soft quiche filling.
2,486
58 min. April 20
th
2022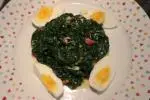 Spinach in a creamy sauce with Langres cheese and lardons, served with hard-boiled eggs.
2,024
34 min. April 24
th
2022