List of recipes using "Lunch":
3 recipes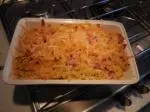 Here's a really simple recipe that children love. Just pasta, ham, a little cream and cheese on top.
9,308
5/5 for 19 ratings 42 min.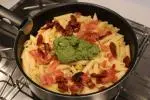 In this recipe, the pasta (whatever kind you prefer) is served with shreds of fried ham and chopped preserved tomatoes as well as a good dollop of pesto.
7,741
3.8/5 for 19 ratings 23 min.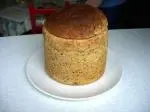 This recipe is for a large surprise bread so you can make six layers (48 small sandwiches if you divide each layer in 8), with three different flavours: smoked salmon/lime, smoked ham/butter, mayonnaise/chicken.
77,750 8
4.5/5 for 8 ratings 6 hours 24 min.