List of recipes using "Mariniere":
2 recipes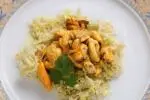 The mussels are cooked "à la marinière", then shelled and served in a creamy curry sauce with shredded, barely-tender cabbage.
1,104 1 hour 24 min.

This is the most classic way of preparing mussels, simple and delicious.
39,485
5/5 for 1 ratings 1 hour 4 min.