List of recipes using "Mille-feuilles":
2 recipes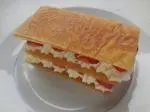 A millefeuille (which in french means "thousand sheets") is a delicious pâtisserie consisting of layers of puff or flaky pastry (pâte feuilletée) sandwiched together with cream, fruit, etc. In this recipe, we will be using sheets of caramelized brik or filo, which makes a delicious, light...
10,311
5/5 for 1 ratings 48 min.

It's a rather long recipe but which never fails to impress, perfect for a special dinner party. It's made up of 3 circles: one almond "tuile", 2 of caramelized brik sheets, with a caramelized apple layer between each, whipped cream on top, and custard all around. Everything, except whipped cream,...
94,125
5/5 for 13 ratings 3 hours 9 min.