List of recipes using "Millefeuilles":
2 recipes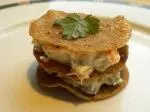 Little savoury "millefeuilles" with a very Breton taste of the sea: a mix of crab and salmon in a herb mayonnaise, piled up between crisp circles of buckwheat pancake.
78K
5
48 min. April 28
th
2013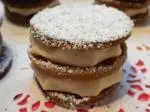 These dainty and delicious mini millefeuilles have layers of puff pastry filled with lemon confectioner's custard (pastry cream). They are a bit tricky because they are quite fragile and do not keep well once assembled. But freshly made, they are a true delight.
19K
2 hours 22 min. March 25
th
2018