List of recipes using "Mint":
10 recipes

Fried rounds of courgette in a puff pastry case with a feta and mint filling. You will find that this combination of feta with mint gives an agreeable fresh lift to this tart.
45,622
4.1/5 for 16 ratings 1 hour 23 min.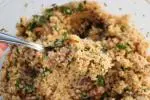 Tabbouleh is a Middle Eastern couscous salad., moistened with olive oil and lemon juice. Its flavour comes from plenty of fresh herbs (mint and parsley at the very least), onion and tomatoes. This refreshing dish is ideal for warm summer or autumn days.
2,493 3 hours 24 min.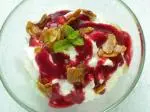 A "coupe Augustin" is a kind of sundae made with mint ice cream, slices of white peach poached in a light syrup, Chantilly cream, raspberry coulis and topped with toasted flaked almonds.
19,105
4.7/5 for 11 ratings 28 min.

This well-flavoured ice-cream is excellent on its own, or in profiteroles with a chocolate sauce for example.
82,363
4.6/5 for 14 ratings 1 hour 34 min.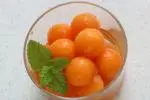 It is tempting to call this a melon Mojito: little balls of ripe melon in a light Mojito-flavoured syrup with mint, rum and lime.
9,068
4.5/5 for 11 ratings 45 min.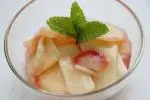 A simple fruit salad of white peaches bathed in mojito flavours: lime, rum and mint (with a delicate hint of vanilla).
860 39 min.

Here is a very simple, fresh and delicious recipe; the flavour of mint goes very well with peaches.
86,075 2
4/5 for 1 ratings 20 min.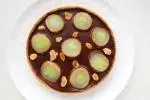 Thick slices of poached pears in a blind-baked sweetcrust pastry case, their centres filled with mint-flavoured confectioner's custard, and surrounded by a chocolate cream, set by baking briefly in the oven. The flavours of pears, chocolate and mint work perfectly together to create a truly...
1,600 2 hours

Minty confectioner's custard, diced strawberries and whipped cream.
77,113
5/5 for 13 ratings 1 hour 30 min.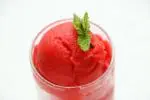 For this strawberry and mint-flavoured sorbet, we will be using an unusual method: blending the strawberries with mint leaves. This mixture is then left overnight for the flavours to mingle before being strained and then churned. This makes a delicious sorbet with its full-on strawberry flavour...
5,286
3.8/5 for 19 ratings 12 hours 26 min.