List of recipes using "Mornay sauce":
2 recipes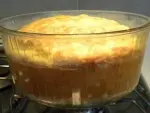 A soufflé - one of those dishes with a reputation for being tricky to get right. In fact, it's not as difficult as all that. The important thing is to break the process down into stages: start by making the bechamel sauce, add some cheese (this turns it into a Mornay sauce), then add the egg yolks...
25,144 1
4.4/5 for 19 ratings 1 hour 34 min.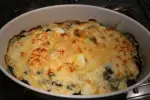 This gratin is made with a layer of pre-cooked spinach, then sliced hard-boiled eggs and a Mornay sauce (an enriched bechamel with cheese).
2,298 40 min.