List of recipes using "Mozzarella":
3 recipes
List of recipes using "Mozzarella"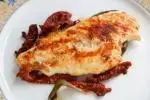 Chicken breasts pan-fried with sage leaves, topped with thinly sliced mozzarella and preserved tomatoes, then served turned over on a bed of the "toppings".
49K
4.1
23 min. December 30
th
2019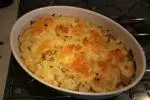 Purple artichokes, cauliflower and mozzarella combined with bechamel sauce in a gratin to cheer up the end of summer.
37K
4.1
1 hour 15 min. September 20
th
2015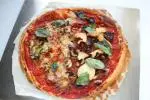 This pizza with a difference has a thin puff-pastry base instead the traditional dough. Apart from this small refinement, the basic elements you would expect are all there: tomato sauce, a variety of toppings and fresh basil leaves.
72K
36 min. September 26
th
2018