List of recipes using "Paté":
3 recipes
List of recipes using "Paté"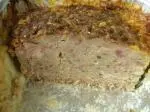 Here is a personal version of the famous country pâté. It's an interesting recipe to prepare in large quantities because it keeps well and freezes easily. The secret of a good pâté is of course the ingredients, but also how it is cooked.
1.7M
2
3.7
7 hours 54 min. October 3
rd
2019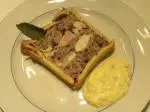 The French classic "Paté en croute" is a terrine of different meats layered and baked in a pie crust. There are many recipes which vary the kind of meat and the seasonings. This is my version with pork, veal and chicken, which is not too difficult, though it does entail quite a lot of work.
155K
13
4.2
6 hours 49 min. September 7
th
2018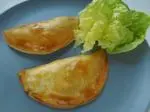 These small pasties ("rissoles" in the original French version) are made with shortcrust pastry, filled with a mixture of cooked meat, onion, parsley, garlic and egg.
144K
3.8
1 hour 14 min. September 10
th
2018