List of recipes using "Reduced":
4 recipes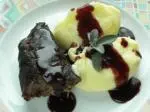 This recipe cooks beef chuck (or braising steak) in two stages: first, slow-cooked in red wine "in the bag", then fried and served with potato purée and a red-wine sauce.
18,057
4.3/5 for 20 ratings 3 hours 57 min.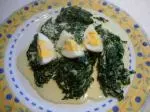 Fresh spinach, simply wilted, reheated in a sauce of thickened cream with shallot, and served with quarters of hard-boiled egg.
65,572
3.8/5 for 17 ratings 1 hour 43 min.

The trick of this recipe is to end up with bananas caramelised on the outside, still firm on the inside, coated with a tasty syrup which is not 95% butter.
73,142 1
4/5 for 1 ratings 40 min.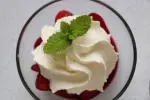 Serving strawberries in red wine is a classic French dessert. Here is a more sophisticated version, with the red wine reduced to a light syrup with notes of thyme and lemon.
1,157 1 hour 23 min.