List of recipes using "Rosemary":
3 recipes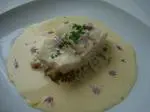 In this recipe the fish is cooked in steam perfumed with rosemary, which makes it tender and aromatic, served on a bed of onions fondue and finished with a dry white wine sauce.
83,873
3.8/5 for 17 ratings 1 hour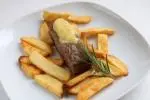 This is a sophisticated way to cook beef fillet (tenderloin): we make an unleavened bread dough (which will not be eaten), adding plenty of salt and lots of roughly chopped springs of rosemary. The beef fillet is seared all over in a frying pan, then wrapped in the dough before being cooked in a hot...
5,850 1
4.8/5 for 12 ratings 50 min.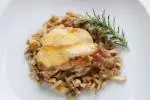 This recipe is cooked in two stages: the chops are flash-fried in a pan, then finished more slowly in the oven. Towards the end of cooking, you can top the meat with slices of cheese, if you like.
5,639
4.6/5 for 14 ratings 26 min.