List of recipes using "Shellfish":
4 recipes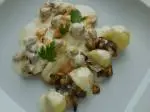 In principal, fillets of sole Dieppoise are poached and served with a creamy sauce and small shellfish. I am offering a new twist on the dish, with the fish sautéed rather than poached, a cream sauce flavoured with mussel stock, and served with shellfish (mussels, cockles and clams), mushrooms and...
8,775
3.9/5 for 19 ratings 1 hour 27 min.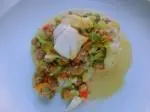 This ragout combines vegetables (cut small and cooked until just tender in vegetable stock) with a mix of cockles and chunks of fish, all simmered together with cream and saffron.
15,618
4.1/5 for 19 ratings 2 hours 17 min.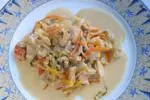 A "marmite normande" is a combination of different seasonal julienne vegetables and a mix of shellfish, rapidly sautéed, then deglazed with cider. The vegetables and shellfish are then simmered together in cream, which intensifies the flavours while it gently reduces and thickens. This recipe is...
3,012 2 hours 13 min.

The French version of sauerkraut (choucroute) is normally served with meat, especially pork and sausage, but here is a seafood version with fish and shellfish. Do give it a try, as it's simple to make and delicious!
47,740
4/5 for 1 ratings 1 hour 37 min.