List of recipes using "Steam cooking":
2 recipes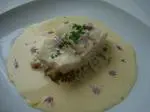 In this recipe the fish is cooked in steam perfumed with rosemary, which makes it tender and aromatic, served on a bed of onions fondue and finished with a dry white wine sauce.
83,893
3.8/5 for 17 ratings 1 hour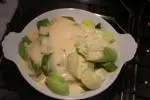 For this very simple recipe, steamed leeks (cooked in 2 stages) are served with a sabayon made with mushroom "jus", preferably from morels. The sabayon is the major taste element in this dish, and adds a delicious woodland-mushroom flavour.
4,139
4.1/5 for 16 ratings 37 min.