List of recipes using "Tex-mex":
8 recipes
List of recipes using "Tex-mex"

For this typically Mexican recipe there are two main methods: smooth mashed avocado (made with a blender), or simple mashed avocado (made with a fork) with small pieces. And you can add, or not, finely diced tomato. You will find the first version (smooth) below.
259K
4.1
1 hour 21 min. November 26
th
2011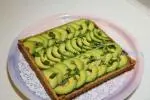 This unusual tart features two star ingredients of South American cuisine: red kidney beans and avocado. The shortcrust pastry case is filled with a red bean and onion purée, then topped with sliced avocado dressed with lime and garnished with fresh coriander.
22K
1 hour 17 min. December 30
th
2019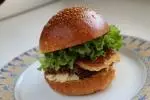 Time for a fresh take on burgers with this Mexican-inspired version. The beef patty is pepped up with chilli spices and partnered with a plainer patty made with red kidney beans.
5,873
1 hour 2 min. May 12
th
2021

This is a really express recipe, a "true" chilli is longer and more difficult to do.
357K
3.8
33 min. February 21
th
2011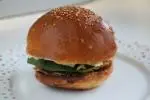 For this Tex-Mex inspired burger the usual beef pattie has been abandoned in favour of fried chicken with chilli, put together with sliced avocado and raw baby spinach.
3,972
47 min. June 23
th
2021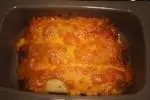 Enchiladas are tortillas (cornmeal pancakes), filled with a pre-cooked filling, then topped with grated cheese and browned in the oven.
21K
1 hour 41 min. May 8
th
2019

This is a quick tomato sauce, just the thing for dipping crisps (chips, if you are American), or nachos. It is very similar to the sauce served with aperitif snacks in Tex-Mex restaurants.
90K
4.1
42 min. September 20
th
2012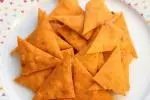 Nachos (or tortilla chips) are small Tex-Mex snack triangles, often served with guacamole. Authentic nachos are made from tortillas, cut into triangles and fried, but here is a lighter, oven-baked version. The recipe is very simple, though the cutting out is a bit of work, and I've given you 2...
10K
1 hour 6 min. November 4
th
2020