List of recipes using "Baked":
4 recipes
List of recipes using "Baked"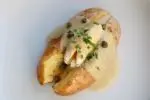 You will no doubt have baked potatoes the classic way, but here's a version inspired by Yotam Ottolenghi, served with a delicious tuna and caper sauce, and a poached egg.
9,970
1 hour 16 min. September 27
th
2020

Here's how to prepare good baked potatoes, and two ideas for toppings. Herb butter can be easily be made in advance and store in the fridge folded in plastic film, it can also be served with red meat because it look like very much to the "Beurre maitre d'hotel" (butler's butter, usually with parsley...
172K
1
3.8
1 hour 42 min. October 24
th
2010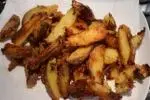 To make these spicy wedges, the potatoes are boiled whole first, then cut, coated in your choice of spices and cooked in the oven until browned and beautifully crisp.
6,437
1 hour 51 min. May 16
th
2021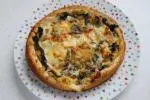 A savoury tart with a thin puff pastry base, crushed potatoes, spinach, bechamel sauce and topped with a sprinkling of grated cheese.
5,290
58 min. June 13
th
2021