List of recipes using "Blanched":
3 recipes

Broccoli cooked until just tender, quickly sautéd in a little olive oil with shallot and ribbons of ham.
60,226 1
4.3/5 for 15 ratings 49 min.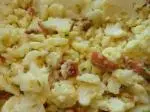 Thin slices of blanched cauliflower, fried strips of cured ham and 3 different types of cheese grated and gently melted to bind everything together.
20,629
5/5 for 19 ratings 50 min.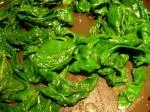 For most people (and me most of all), spinach brings back bad memories of canteens... But, well prepared, it's a fine and delicate vegetable which goes remarkably well with scrambled eggs, fish, and many another things. Here are two ways of preparing it.
94,058
3.7/5 for 7 ratings 1 hour 9 min.