List of recipes using "Cherries":
2 recipes

A clafoutis batter and cherries lightly cooked in sugar and Kirsch, then de-stoned. The clafoutis is baked in the oven.
32,293
4.3/5 for 15 ratings 1 hour 17 min.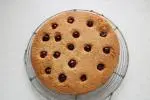 This Galette de Fougerolles is a flattish cake filled with a hazelnut buttercream and topped just before baking with a "craquelin" (sweet cracker) crust, studded with griottine cherries.
3,116 3 hours 21 min.